Advertising on 3reef.com!
3reef.com LLC is a popular reef aquarium Web site that has over 25,000 members and receives over 60 million hits a month. If you sell aquarium products, 3reef has the demographics and the traffic for your business to succeed. From leaderboard FLASH ads to 300x250 and 468x60 banners, 3reef has numerous options for your ad campaigns and budget.
3reef is also unique in that advertisers have the ability to log in and view real-time statistics on ads as well as change out banners at any time. There are no smoke and mirrors here.
Furthermore, if you have new aquarium products or livestock that just arrived, 3reef will help promote them on the homepage for extra views and sales at no extra charge as part of our attention to customer service. We will also work with you on creatives and contests that engage members and bring loyalty to your products and brand.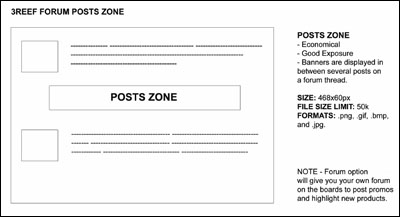 3reef Forum Posts Zone is extremely affordable.
For instant purchase and setup of economy zone ad spots on 3reef.com:
View Economy Ad Spots
For premium ad spots, please email for prices and availability using email at top of page.
Community